Starting from
1st September 2023
, an increase in Batam Seaport Tax will be in effect. An additional IDR 35,000 per passenger will be collected at the Batam Ticketing Counter. Thank you for your understanding. Click
here
 for details.
Explore
Batam

Your Way, At Your Own Pace!

10 hours with your personal driver. Prices start at SGD 70 per day!
TIMING
Singapore | Batam Ferry Daily Schedule
Singapore HarbourFront
to Batam Harbour Bay (Singapore Time)
08:15
09:10
10:15
11:15
12:15
13:15
14:15
15:15
16:30
17:45
19:00
20:15
21:35
Batam Harbour Bay
to Singapore HarbourFront (Indo Time)
06:00
07:15
08:30
09:45
10:45
11:45
12:45
14:00
15:30
16:30
17:30
19:15
20:30
* Schedules and operating hours are subject to change without notice.
The Horizon Experience
Choose Your Seat, Embrace Your Voyage
Embark on an unrivaled travel experience with Horizon Fast Ferry, connecting you seamlessly between Batam and Singapore. Take a serene pause, recline in your seat, and embrace the extraordinary voyage that awaits.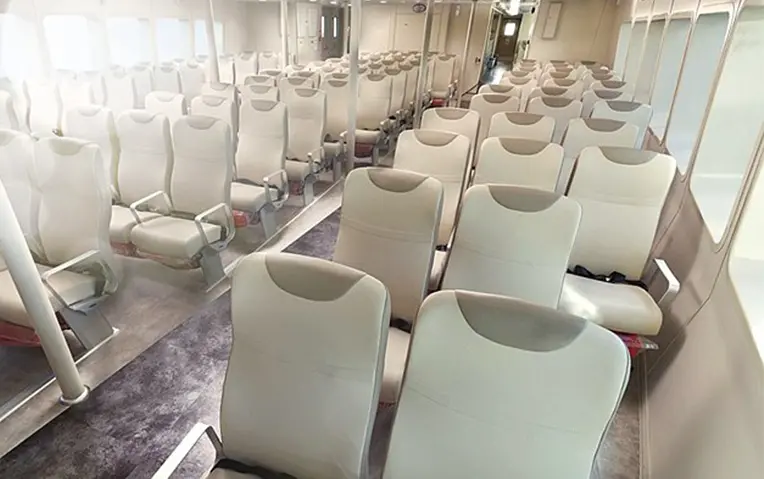 Economy Class
Economy class passengers can enjoy a comfortable, fully indoor and air-conditioned experience on our main deck with televisions and toilets available.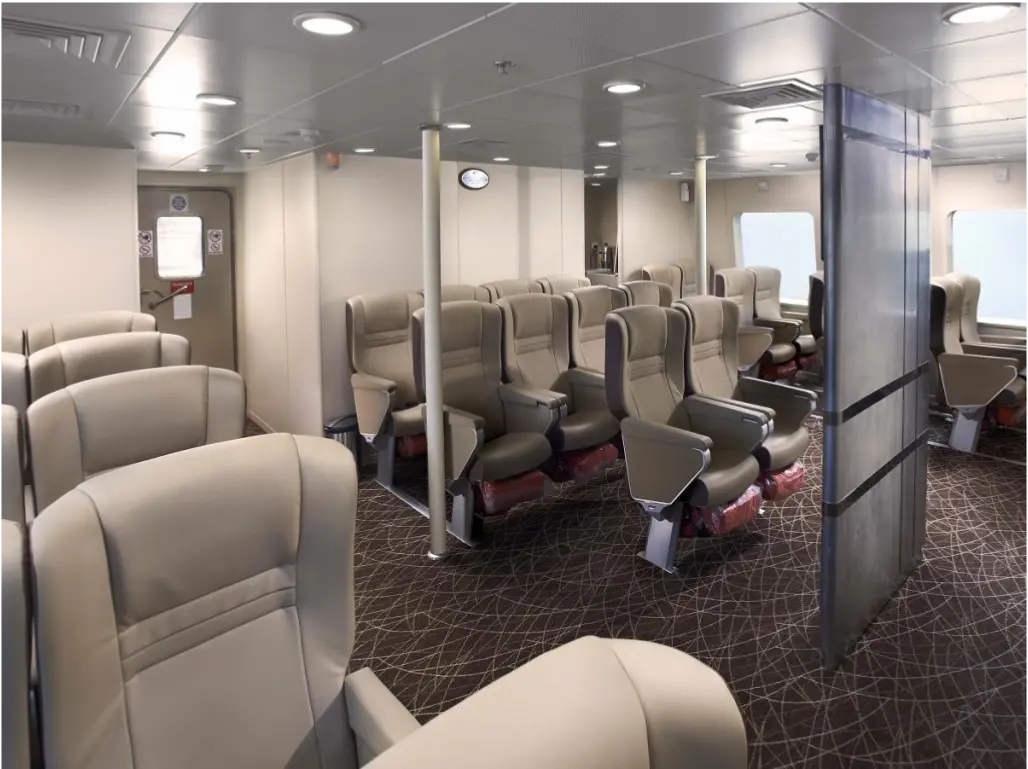 Business Class
Business class passengers can enjoy a luxurious experience on the upper deck, with wider leather seats, more spacious legroom, individual pull-out tables, complimentary bottle of water and shared 40-inch televisions and toilets.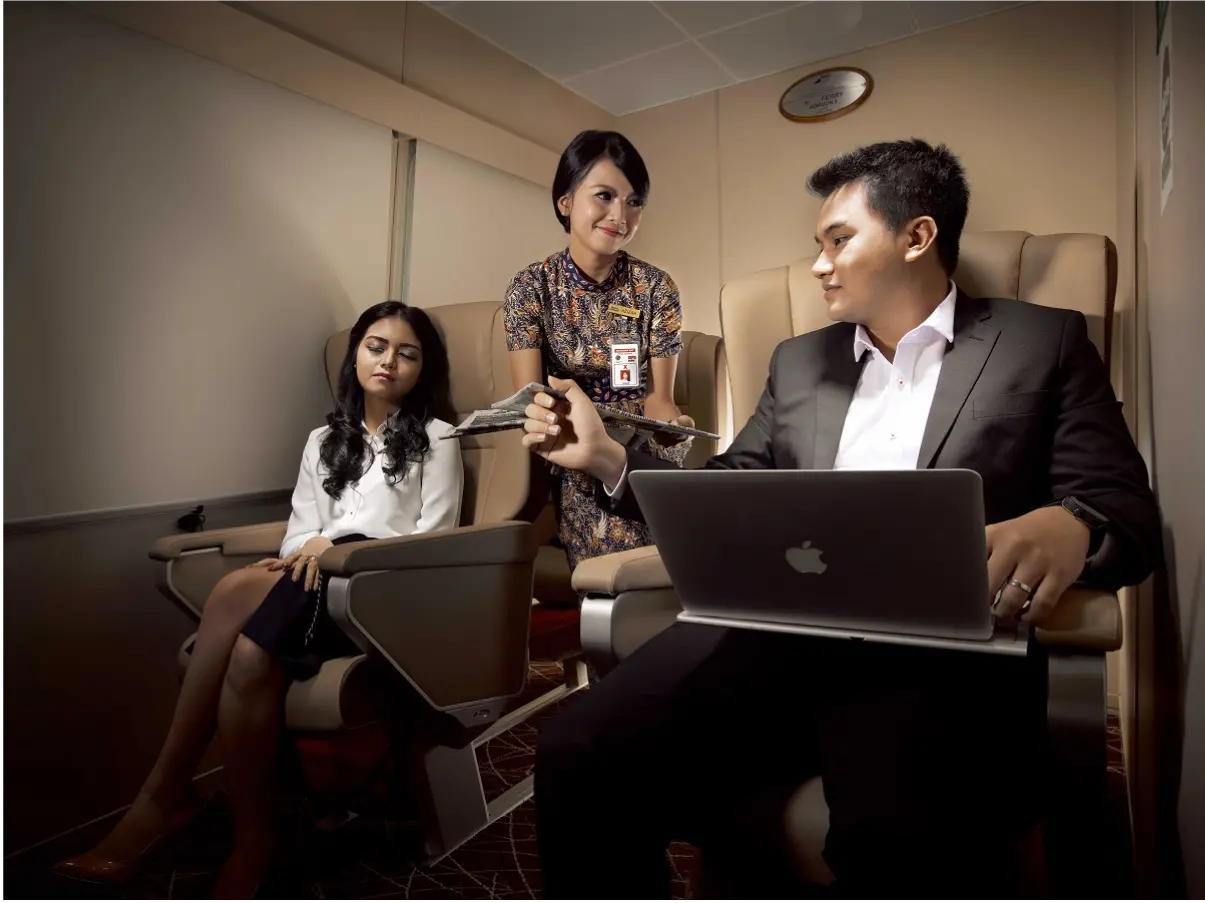 VIP Class
The VIP cabin offer luxury and comfort for up to four passengers. Each cabin features a 40-inch television, reclinable leather seats, adjustable footrests, and individual pull-out tables. Additionally, each passenger will be provided with a complimentary bottle of water for their convenience.
Harbourbay Ferry Terminal
Harbourbay Ferry Terminal is a modern and dynamic hub that seamlessly connects Singapore and Batam, providing a convenient and efficient travel experience.

Harbourbay Ferry Terminal is equipped with advanced features like the Immigration Lanes Autogate (ILA) system and digital ticketing options, ensuring a hassle-free journey for travelers.

Located in the bustling Harbourbay downtown area, Harbourbay Ferry Terminal offers easy access to a variety of entertainment, shopping, and dining options, adding to the overall convenience and enjoyment of the travel experience.
Find out more
*Ferry duration varies depending on sea condition.
TESTIMONIALS
What our passenger say about us.
Lee
Horizon is fast and efficient! Special mention to staff Evelyn Puan who processes our tickets at unbelievable speeds.
Anand MS
Very fast and efficient check in process, neatly maintained ferry, very friendly crew and staff members.
Rin H
Took Business class to avoid weekends crowded queue. Good choice, highly recommended. They also provided complimentary snacks and drinks.
Check out one of the video review and walkthrough from our passenger of our ferry and service below
Find out more
Frequently Asked Questions
Booking & Ticketing
Certainly! We understand plans can change. You're welcome to make one complimentary change to your ferry timing. However, please note that subsequent changes will incur a fee of $10 per person. To reschedule, please contact us at [email protected] or reach out via WhatsApp at +65 91581013. We're here to assist you in adjusting your travel plans as needed.
No, we do not offer children's rates. Every passenger, regardless of age, is required to have a ticket, and they are priced at the adult rate.
Booking a ticket with us is simple and convenient. Our pricing remains consistent no matter where you choose to book. You have various options:
Online Booking: You'll receive e-tickets within minutes of booking confirmation. Plus, when you book through our website, you'll be eligible to use our Immigration Lane Autogate (ILA). Terms & conditions apply.
WhatsApp Booking: If you already have a physical ticket and wish to book for a Singapore or Batam trip, you can reach us on WhatsApp at +65 91581013.
Email Booking: Send an email to [email protected], and our team will assist you with your booking.
Phone Booking: To speak to someone at office, please call +62778 741 5100 (Batam) or +65 6276 6711 (Singapore).
We accept all major credit cards for online bookings through our website. For in-person bookings at our counter, we can only accept cash.
ILA is eligible for the following individuals:
All ASEAN nationals, including citizens of Singapore, Brunei, Cambodia, Indonesia, Laos, Malaysia, Myanmar, the Philippines, Thailand, and Vietnam.
Travelers aged 14 years and above.
Holders of KITAS (Temporary Stay Permit Card) and KITAP (Permanent Stay Permit Card) passes.
Additionally, you must also:
Enter and depart within 30 days through Harbour Bay Ferry Terminal.
Purchase their tickets through our website.
All Indonesians and KITAS/KITAP pass holders can use ILA upon first arrival because your biometrics have been collected during the registration process. The use of ILA is free and remains valid throughout the life of your passport or pass. However, once your passport or pass expires, you will need to go through the same registration process again to continue using ILA.
General
Two-Factor Authentication (2FA) provides an additional level of security for your Horizon Fast Ferry online account by requiring users to provide two distinct sets of credentials to confirm their identity. This involves combining the password (first factor) with either a phone number, email address, or both (second factor). By implementing 2FA, Horizon Fast Ferry strengthens the security of their online accounts, minimizing the possibility of unauthorized access, even in the event of a compromised password.
To activate 2FA, follow these steps:
Log in to your registered account.
Click on your name in the top right corner and select 'My Account.'
Under 'Personal Data,' click 'Edit Profile.'
Choose to activate 2FA for email, phone, or both.
Click 'Save Profile.'
Ensure your email address and phone number are updated and correct. Your phone number should also have WhatsApp, as we send the OTP code via this platform. 2FA will be activated the next time you log in.
Immigration
Immigration Lane Autogate is designed to streamline the immigration process for eligible travelers by employing advanced biometric authentication and document verification technology. Travelers who meet specific eligibility criteria, such as nationality, age, and visa status, can use the ILA.